You're remodeling your kitchen and already have your style all picked out. Your cabinets, paint, backsplash, and other décor elements are all picked out, and now you need to decide on the key feature that will tie the entire room together: the countertops. But while looks are important, choosing the right counters for your kitchen will also depend on the material's other properties, including durability, maintenance, and cost.
Style
Choosing the right kitchen countertop material has a lot to do with the styling of your kitchen. Some materials can convey a rustic quality, some are more modern or industrial, and others can work well in almost any setting. If your interior design has a country or cottage feel, butcher block can enhance that. Stainless steel creates the look of a commercial kitchen and works well with modern and minimalist décor. Stone countertops are the most popular option and work with a variety of styles; just keep in mind that there is a big difference among stone surfaces, which can include marble, granite, and quartz.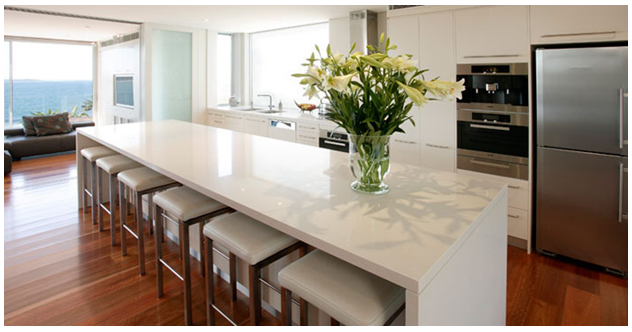 Color
Stone countertops can come in a wide range of colors, depending on the particular material. Marble is white and creates a very elegant appearance, but it is probably the least versatile choice. Granite comes mostly in earth tones, greens, and corals. Engineered quartz countertops can be made in almost any color imaginable. This is because the stone is mixed with resins and dyes, which means your counters can look as natural or eye-popping as your style demands.
Durability and Maintenance
Moving beyond aesthetic considerations, your lifestyle will largely dictate the best material for your countertops. For instance, if spills are the norm in your kitchen, marble may not be the best choice. Butcher block is susceptible to warping from liquid, and must be treated frequently with oil. Granite and quartz are the most durable, offering scratch, heat, and stain resistance. Natural granite has to be sealed periodically, however, to maintain its durability. Because it is bonded with resins, quartz never has to be treated with sealants.
Cost
Cost is going to be a factor for most people. The most affordable countertop remains laminate, and the material is improving in durability. But it is still susceptible to scratches and burns; there is a reason it costs the least. Most stone materials cost about the same, with the exception of marble (high cost). Choosing the best material, at the proper price, is essential to achieving the kitchen style you've been dreaming of.
Make sure to check out your countertops in a showroom or by ordering a sample of the material before you buy. You'll want to see what the material looks like close up and, with a sample, get a better idea for how it will work with the rest of your kitchen décor.