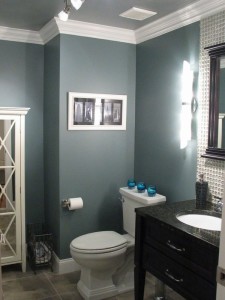 [image: http://www.pinterest.com/]
A few changes can drastically change the look of your entire bathroom and can provide a cleaner and more contemporary vibe. The new trend for bathroom upgrades is all about simplicity. Bringing an entirely different look and feel to your bathroom can be accomplished easily with these simple steps.
Painting
A different paint color on your walls can drastically change the entire room décor. The new trend to try out – dark colors – white is out. Adding a deep blue or grey color to your walls can provide a great color contrast and achieve the contemporary vibe that you're looking for.
Quartz Counter tops
Another big trend that we love is replacing your old sink counter tops with a quartz counter top. Simplicity is best when trying to update your look, choose a design that highlights your cabinets for a sleek look. Installing a quartz counter top in your bathroom is a better alternative to granite because they require low maintenance, they are mostly indestructible, and they look great for years!
Changing your Mirror
Another change that can go a long way is to update your mirror. This can be done by adding a frame around your mirror, painting the existing framing, or by replacing your mirror altogether. A large, simple mirror right above the sink gives off the perfect vibe.
Decorating
To provide a minimalist feel, we do not want to clutter the bathroom and counter tops with unnecessary items. Instead, opt for a simple vase and add some flowers or candles to your vase. Keeping your counter tops clear maintains your contemporary style.

To create a new look, there is no need to change everything. With just a few added details, you too can have a contemporary new age bathroom. Contact us today to to find out more about updating your bathroom.