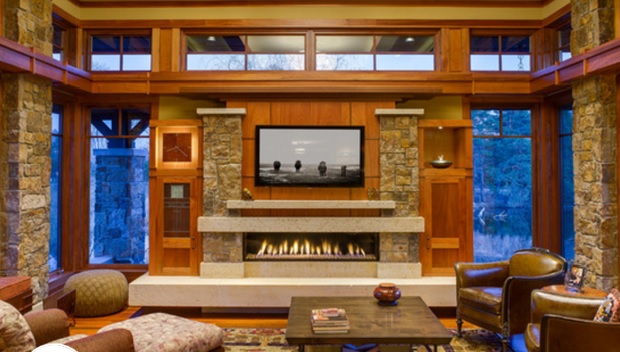 In today's modern homes, living rooms focal points are often the TV and the fireplace. Memories of family gatherings, parties with friends, the wine, the gossip, no winter gatherings can be complete without watching your favorite game around a warm fire.
There have been multiple blogs written on interior design ideas around living rooms, but there are a precise few which dwells around the top two focal points. Houzz has some great design tips and blogs, and Shane Inman of The Inman Company has written a great blog on this subject. has earned a reputation for excellence in interior design in the residential and commercial markets. It got recognized as one of the most popular blogs in Houzz, and rightfully so, in my opinion.
"These two focal points need a precise plan for them to feel warm and welcoming instead of out of balance or out of scale." – Shane Inman
Shane had given a few design tips in his blog on how to achieve complete cohesion while keeping separation, making the living room design a precise art form with texture twists and matched in scale.
The entire blog can be read here.
Of course, such design concept is only possible with certain modern gas powered fireplaces only, like Ortal gas fireplaces with cool wall technology. Otherwise, there is a chance of the television being damaged. Read all about cool wall technology here.