Fall is well underway and while this time of year may make you think about ghouls and goblins, you may be considering about doing more than decorating for Halloween. This year why not pay a little attention to your living room with some of the latest decor fall trends. Here are four creative ways you can transition your favorite living space of your home.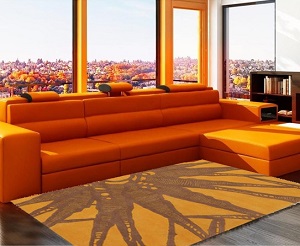 Think in Colors

Creativity starts with the small things, and just like any other room in the house you want to be sure that the ground you walk on is prepared to provide you with warmth when temperatures cool down. Start by warming up your living room floor to help make a stylish impact by mixing patterns, textures and fabrics. This is where you can bring in all the reds, oranges and yellows without having to redo your walls. You can even add some flair with your favorite animal print rug.
[Image: http://decozilla.com/]
Build Your Dream Mantel

Start by hanging a creative wall piece above your mantel such as a tree or thick forest and below it you can create a lush fall e
nvironment. Use materials like silk hydrangeas, pinecones, acorns, unraveled grapevine wreaths and even pumpkins to rest on top of your mantel.
Swap out those Curtains
Making the switch from summer to fall means that you are more likely to be getting ready for the chilly weather, so to keep old man winter out of your home you will need to invest in thicker curtains with heavy fabric but warmer colors. If your walls are not already a burnt orange or brownish tone then this is the time to experiment with those colors to keep warm air in.
Designate a Feature Wall
For the extremists that love bringing fall into their living room, then painting a feature wall may be the best attempt to capture fall in one room. The idea is to identify the most prominent wall in the room, ideally the wall in which your sofas face, and paint it with your favorite fall color. Generally, paint may be too much of a hassle for some, so wallpaper with a warm tone and textured styles will be just enough for that perfect fall theme.
Great fall ideas do not cost much to put them into a reality; it is all about creativity and functionality. If you want to learn more about our latest trends, then do not hesitate to contact us online. We will be happy to share with you the best fall décor ideas for your living room.