Whether your home has a sprawling kitchen area or a modest kitchenette, it's important to maximize the space you have. You want to use your storage space in the most effective way possible, but you don't want your kitchen to look cluttered. Employing some of these handy interior design tips, you can get the best of both worlds: a kitchen that is both neat and makes full use of its space.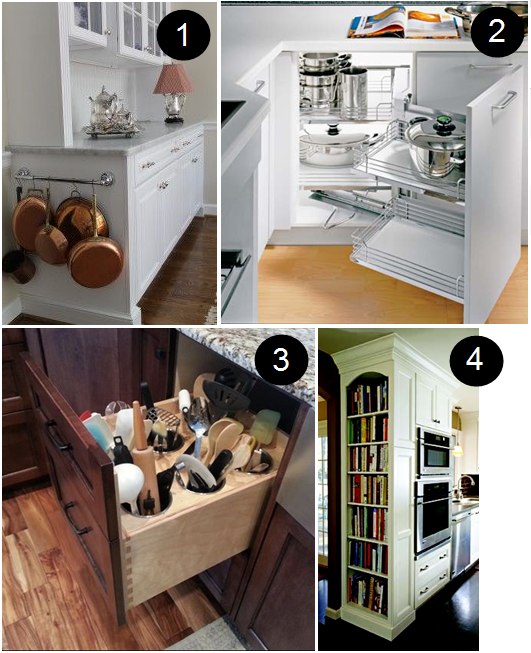 This rail on the end of the cabinet is easy to install and allows you to keep your pots and pans organized in an otherwise wasted space. As far as DIY projects go, this one is fairly easy. Plus, it's much better than trying to stack your pans on a shelf. As an added bonus, the silver railing is nicely complemented by the cool gray stone countertop and white cabinets.
A multiple-shelf unit, like this one featured in Sunset Books, allows you to make use of the corner space in your cabinets. As you pull the door open, the shelves that rest in the corner are pulled into view. So no more sticking your head inside the cabinets to get to the things in the corner.
This custom cabinet is definitely not for beginners; consider hiring a carpenter if you want one of these in your kitchen. If you've ever experienced the frustration of digging through a drawer looking for a spatula or a whisk buried under other utensils, this might be the perfect solution for you.
Here is another master's project in kitchen remodeling: a bookcase with built-in oven, microwave, and cabinet space. If you own a lot of cookbooks, as was the case with this homeowner, this is the perfect way to keep them close at hand as you take on your latest culinary challenge. And it fits the décor of this kitchen perfectly.
There's one place in your kitchen that shouldn't be used for storage space: the countertop. This river sink provides useful space on this kitchen island without cluttering the room. You can add ice to chill your drinks during a party, and it actually enhances the look of the kitchen. Stone countertops are perfect for this: they pair nicely with this kind of sink and can be cut in virtually any shape.
These are just a few of the many kitchen remodeling ideas that can help you get the most out of your space. Whether you're looking for a quick fix or a full remodel, there is a solution out there to help you make your kitchen organized and stylish.