As temperatures start to fall and the leaves change color, you start noticing that the interior design of your home could use some sprucing up. We are excited to see the latest trends first hand as you make way for what looks to be a pleasant season. We are also happy to share with you the latest trends as they surface. First, you will find that the use of neutral colors stand as the dominant scheme the entire year, but now is the time to go bold and express yourself.
Pairing Black and White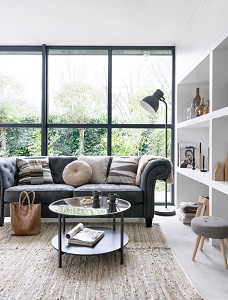 [Image: Style Files]
The biggest issue with this trend is that most of us do not own white sofas or chairs to pair with black and white pillows, but the key is to drape them with functional black or white slip covers that can easily be washed in case things get a little messy during Thanksgiving.
Keeping Cozy
In the bedroom, you'll find that it is all about focusing on warmth and comfort with the autumn theme: pumpkins, open fireplaces and layers of fall. This trend will focus around your accessories – pillows, bedding and lighting. As for color choice: warm neutral colors such as oatmeal and taupe are the most dominant, as they work well with any color scheme.
Metal and Wood
We all know by now that copper has made its way back into our homes starting from last fall, well once again it is back. The copper trend of fall and winter will be mixing brass along with dark shades of wood. You can also look for simple accessories or furniture that mixes burnt oranges tones of copper with dark mahogany.
Indoor and Outdoor Accents
[Image: Mary Sherwood]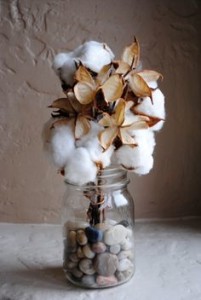 Fall is an amazing time of the year, so it is not a coincidence that using some of its precious pieces of nature as the finishing touches to your décor. Try picking up some dried leaves, stones and twigs from outside, add some cotton balls and try out this arrangement. Fill Mason jar or old fashioned canister about a quarter of the way with the stones. Place the twigs in the middle tied together with the leaves and cotton, and voila you have your very own dinner table center piece or bathroom décor.
Ask an Expert
Even highly skilled designers make mistakes, so naturally you will not always have the perfect fall design to match with every season. Ask a friend for their honest opinion about this season's creation. However, interior designers are filled with clever design tips and tricks that can transform any room in your home. If you need trustworthy advice then ask our experts online to get the inside scoop of this fall's latest trends.