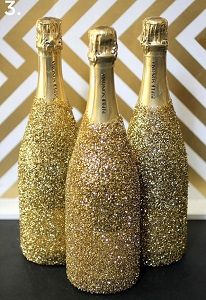 [image: www.pinterest.com/]
Entertaining guests at your home this year for New Years? If so, here are few simple inspirational projects you can do to design a sparkly and magical night to ring in the New Year right!
Shinning Centerpieces
Place a beautiful and unique centerpiece to your tables. Use an empty clear tray, vase, or glass flutes and fill it with round sparkly ornaments, use gold, copper, and silver. The best part about this project is that you can use the ornaments you already have or purchase some at a huge after Christmas discount.
Sparkly Candles
To add a New Year's Eve touch, add some glitter to your already existing candles, all you need is glitter and some spray adhesive for this project. Apply a thin coat of your glue all over your candles and then cover it with glitter and let your candles dry. Adding these all over your home will definitely bring in that added sparkle for your NYE party.
Create a Backdrop
Don't forget to throw in a cute, sparkly backdrop so your guests can take tons of pictures. You can do this several different ways, but the fun favorite this year is hanging some tinsel on either a wall or a doorframe. Another method would be to purchase some sparkly wrapping paper and taping it to a wall, and voila instant photo booth!
Don't Forget the Bubbly!
No New Year's party is complete without your dazzling champagne bottles and glasses! Avoid plain and simple champagne glasses and bottles by adding some sparkle to them. Using a spray adhesive can, spray a generous amount on your bottles and cover them in gold or silver glitter and do the same with your glasses. This way everyone can hold some sparkle in their hands when the ball drops!
For more inspirational design ideas for your home this New Year's, visit our page http://interiorcollective.com/creativity/9-festive-new-years-eve-decor-ideas/.