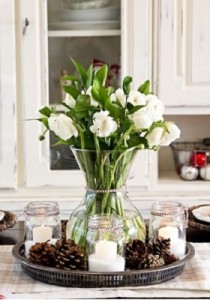 [image: pinterest.com/]
The holiday season is quickly approaching and you want your home to look it's absolutely best for all your guests. Holidays are the perfect time to sit around and spend time with your loved ones. Here are some simple tips you can do to spruce up your home this holiday without spending too much.
Decorating your Home
Add scented candles in your bedrooms and bathroom. Warm scents create an inviting environment, you can try adding coffee beans in a vase and a vanilla scented candle for an amazing scent that makes its way into every room.
Flower arrangements are also a great way to decorate your home this season. Using white flowers and pine needles around your house is perfect for winter. For an extra holiday touch, wrap small boxes in Christmas paper and place them around your flowers.
Guest Bedrooms
This time of year it becomes very chilly, leave out extra blankets for your guests and add a thick duvet to your guest bedroom. Create an environment that's inviting by adding lots of pillows and extra blankets. Ensure that all your guests have what they need in their bedrooms by placing extra towels in a noticeable area.
Living Room
This room will be used by all your guests, make it cozy! Place a basket in a noticeable area and fill it with small blankets and throw pillows so your guest can feel comfortable and warm. Having a collection of fun, holiday movies at their disposal is a great way to entertain guests.
Keep Your Pantry Stocked
Keep your pantry stocked and ready for all your guests. Your pantry should be have an assortment of tea, coffee, and hot cocoa. Having an assortment of snacks for each age group is always good when entertaining close family and friends.
Creating an inviting and comfortable environment for guests is simple. For more creative ideas on how to decorate your home, visit http://interiorcollective.com/creativity.