When you think of adding creativity to the décor of your home, what is the first thing you think about? Most homeowners think that a fresh coat of paint will do the trick, but you do not want to get your hands and clothes dirty. Especially in the likes of spring, you should be thinking about the likes of showing your green thumb.
Adding green life to your home décor brings out the life in your décor. Plants indoors help clean and improve the air quality throughout the house, so no matter what the color palette may be in your living room, bedroom or bathroom, indoor hanging plants are the best plants for interiors. Here is how you can add some green to your home.

Photo Courtesy Pinterest
Start working from the outside in. If your entrance-way appears too plain to look at then hanging plants on the porch or on opposite sides of the door are a great place to put them. Ideally petunias or simple green hanging plant balls and give a sense of elegance before entering your oasis.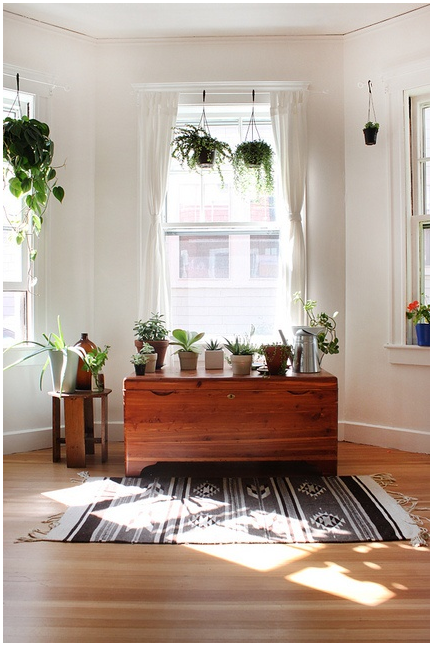 Photo Courtesy Pinterest
If your living room is plain and simple then you can use hanging plants to your advantage and display them as art. Your options are endless, start by adding a hook in a lonely corner or if you are looking to keep the sun shining through your windows take the mini-blinds down and hang a set of hydrangeas or puffy, low hanging greens to keep your privacy.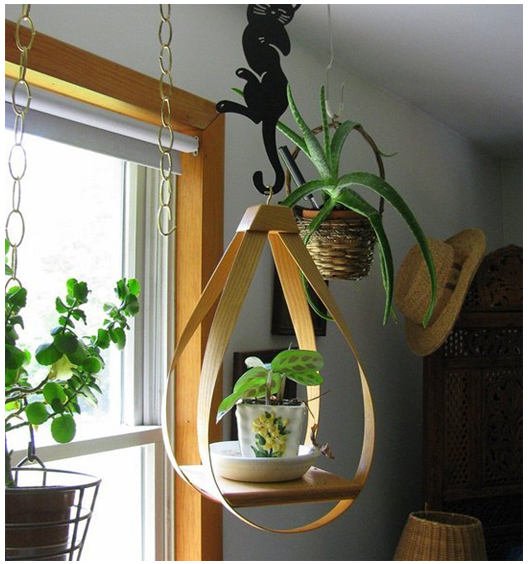 Photo Courtesy Mix and Matched Vintage
Don't be shy to leave your bedroom out of the picture. The walls could use something better than a dusty old poster. A single long hanging plant beside your bed is able to reveal the sweeping colors of your walls while still displaying the beauty of the greens. If you are window-less and already filled your walls with tons of knick-knacks already then hanging plants high above your dresser or lamppost are simple enough.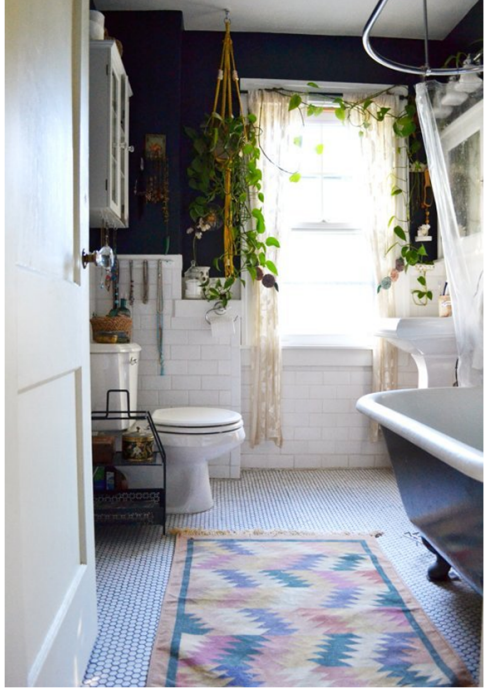 Photo Courtesy: Lauren and Chad's Vintage Comfort
In the bathroom you know that this is your place of escape and you always want to keep your style looking fresh and inviting, so hanging plants are the best plants for interiors in bathroom décor, especially if you are afraid of knocking over huge ceramic planters. Upside down hanging plants above your light fixtures or draping some green vines around a large window work well. Even flowers hanging high above the shower head are fitting for your green lifestyle.
Of course there is always the hassle of trying to water hanging plants, so instead of using a water can and praying that it does not ruin your favorite carpet, place a couple of ice cubes on them once a day. Adding unique hanging plants to the décor of your home is that simple. Have fun, and get creative.