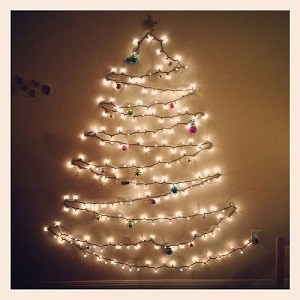 [image: www.pinterest.com/]
The holiday season is here, is your Christmas tree ready? During this time, your Christmas tree is the centerpiece of your home. This is a very popular tradition that so many families happily participate in. Here are few tips you can use to create a truly unique Christmas tree for your creative home.
Who Says Your Christmas Tree Has to Be Green?
Make it your own! Whether you buy an artificial colored tree or a natural green tree, with a few coats of spray paint you can enjoy a, pink, blue, white, red tree – get creative. You can even combine colors or create a gradient effect. Add some twinkly lights to brighten up the look.
What About Ornaments?
You do not have to use the traditional glass ornaments for your tree, create your own by using souvenirs, wine corks, ribbon, or even your own hand painted glass ornaments! The fun part about Christmas ornaments is that the possibilities are endless, use whatever you have on hand to create a Christmas tree that is entirely your own.
Want a Tree, But Don't Have the Space?
Use your wall! This is a quick and easy way to have a Christmas tree without worrying that it will make the room feel cramped. All you need is some ribbon and some light and small ornaments that , or skip the ornaments and just add lights in the shape of a Christmas tree. It's different and it is perfect for the modern home owner.
Today's Christmas Tree decoration ideas are so much more than popcorn garlands, people are using souvenirs, utensils, and plenty of twinkling lights to create their tree. For more tips on how to decorate your home this season visit http://interiorcollective.com/creativity. Wherever your creative side takes you, have fun this holiday season and spend it with your loved ones!