There are many natural elements that are routinely used in construction and design. Unfortunately, we often cover up the inherent beauty of these items in favor of making our spaces more uniformed, more sanitized, and less unique. Here, we feature a few interior design features that celebrate the splendor of nature in their composition, lending your space a bit of rugged individuality.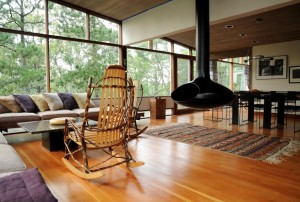 Image: Freshome
Hardwood floors are extremely common these days, and wooden ceilings aren't exactly one of a kind, either. But the wooden chair in the foreground is truly a thing of natural beauty. Although the wood is varnished and polished, it retains some of its irregularities (its most charming feature). Even if you use more than one, no two of these chairs can be exactly alike, just like trees in the forest.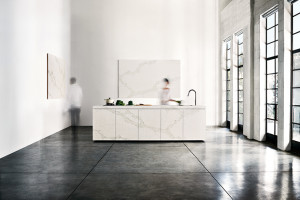 Image: Caesarstone
Inspired by Calacatta marble, this Calacatta Nuvo quartz from Caesarstone mimics the natural veins and patterns found in this somewhat rare natural stone. Although it is used to create a classical look in the picture above, we can just imagine how great the organic stone appearance would look in a lodge setting like that pictured in the top image. You could make a kitchen that looks like a bear's den, and we mean that in the best way possible.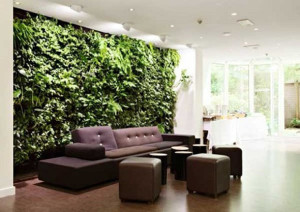 Image: Marketing Matters
This might be taking the nature craze a step too far, but we were ultimately won over by its sheer ambitiousness. A hedge wall indoors? It does give the room a much-needed touch of color and is the most natural element we have ever seen employed in design.
Have you employed any natural elements in your décor? If so, let us know how in the comments section below.