The kitchen industry is always looking for bigger and better ways to wow homeowners, so in hopes to sweep people away from the trend of an all white interior, designers are making a push towards natural materials, brass accessories, patterned backsplashes and open shelving. Certain design decisions reflect your current lifestyle, but it can inspire new habits to make your family wholesome. For example, a fun and functional kitchen environment can bring your family closer together with an inspiring kitchen. Here are some modern kitchen design ideas to help you get started.
Versatile Island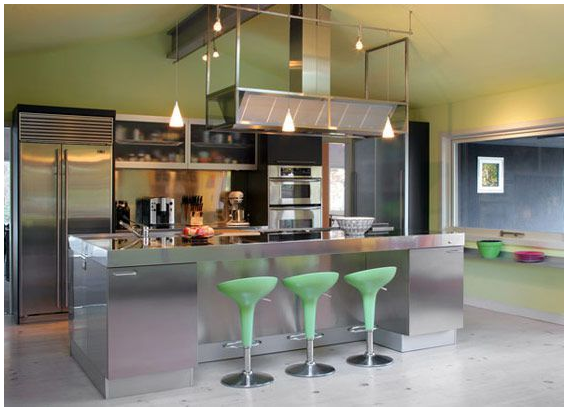 Photo Courtesy Pinterest
Multifunctional kitchen furniture is first on the agenda of contemporary kitchen design ideas. For example, a kitchen island with a breakfast bar that modifies as storage for kitchenware and small packaged food can bring everyone together while meals are prepared. Stylish bar stools can also reflect the contemporary look you are striving for.
Open Shelving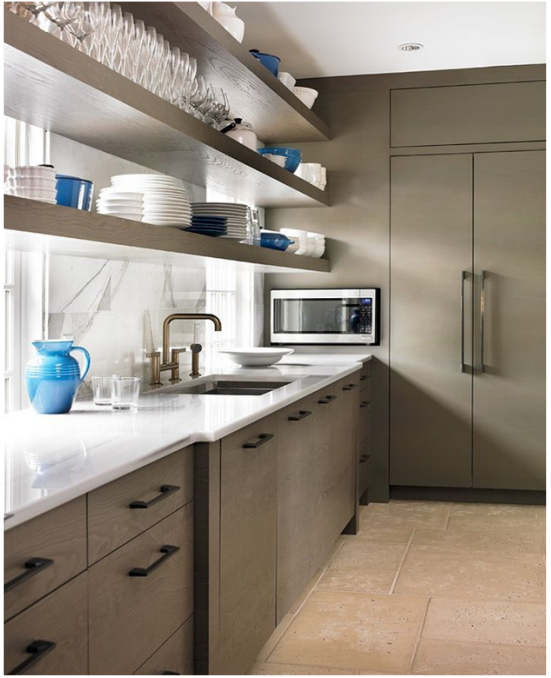 Photo Courtesy Pinterest
Modern kitchens today are letting their shelves do the decorating, by resorting to open shelves. You will always have a need for kitchen cabinets, but now we want you to show off your sense of style in kitchen accessories. Everything from your colorful china and wine glasses, to your new pots and vintage cups will reveal your modern chef persona.
Colorfully Designed Backsplashes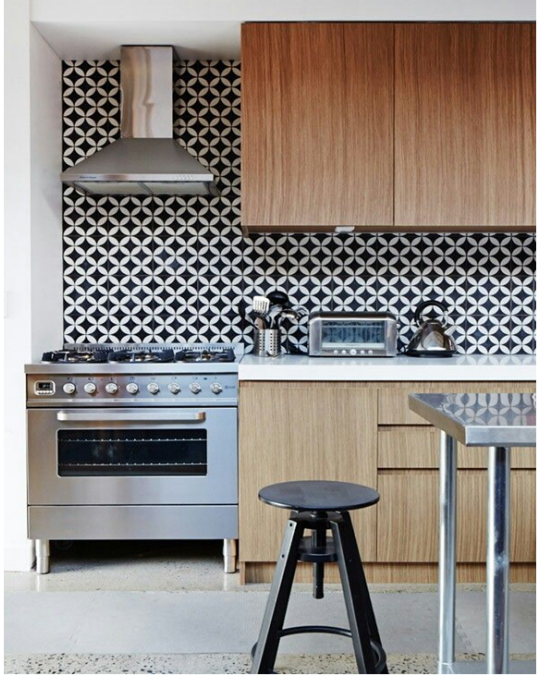 Photo Courtesy Pinterest
Colorful backsplashes are one of the most striking elements of contemporary kitchen design ideas. An eye-catching design may be the only piece missing from jazzing up your unique style. Some designated areas for backsplashes include above the kitchen sink, above the stove, floor-to-ceiling, or matching the style of countertops.
Warm and Bold Fixtures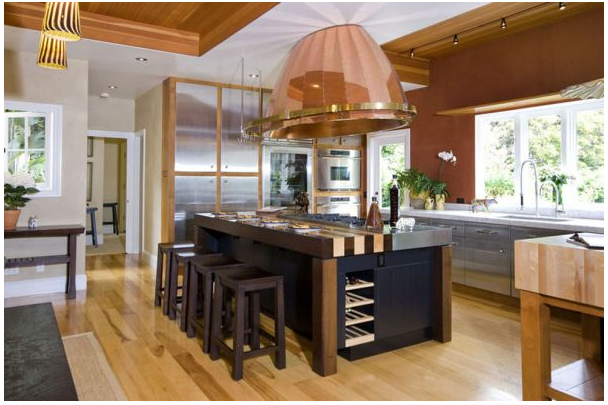 Photo Courtesy Virtual Imaging 360
This year, homeowners will continue to progress into a more contemporary fashion that utilizes more sparkling materials in their modern kitchen design ideas by working with warm metal fixtures. We have all flirted with the idea of stainless steel and chrome metals, but now we are bringing back the classics of brass and copper with our unique modern flair. Copper accessories, such as the copper hood displayed above will make your kitchen feel much more custom-furnished than any other home on the block. Sometimes it's okay to be bold, and in 2014 making a bold statement in the kitchen is strongly recommended.
Your contemporary kitchen design ideas are endless, starting from a fully functional island and open shelves to backsplashes and warm metal fixtures. This year you can diversify your kitchen with to match the beautiful modern environment that is right for you.