Caesarstone – the leading manufacturer of quartz countertops in the U.S. and in many other countries around the world – recently worked with designer Sebastian Herkner on a bench and table set for Wallpaper* Magazine's Handmade exhibition. Taking full advantage of the material's many beneficial aspects, Herkner was able to create a truly unique design. He praised the Caesarstone quartz for its durability and the inviting tactile qualities of the surface, which "appears quite warm and soft in its haptic." That's a fancy way of saying that the quartz feels gentle against your skin, despite the high tensile strength inherent to the material.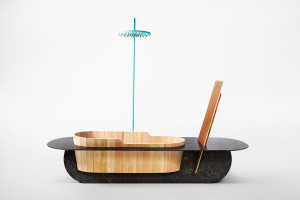 Designs like the bathtub pictured above are created by arranging a two-dimensional material into three-dimensional shapes. The quartz countertops are repurposed, essentially being used like wood planks. This really opens up the possibilities when it comes to design. The reason that this heavy, stone material can be used like wood is because of the high tensile strength of quartz. Because this material is held together using super strong resins combined with ground natural quartz, it can support its own weight even in the most irregular positions (something that could never be accomplished using granite).
As Herkner pointed out, Caesarstone quartz also provides a pleasant tactile experience. The surface is soft and warm, an important facet of any material you choose to build furniture out of. Although stone may not be at the top of your list when it comes to warmth and softness, Caesarstone quartz is the exception to the rule.
Interior designers interested in using materials in new and interesting ways should check out Caesarstone quartz for their next high-profile project. Although it is mainly used for countertops, repurposing it to create bathtubs, tables, and benches can tie the whole room together in a totally unique way.