A popular interior home design that continues to be a trendsetter for homeowners is having functional reading rooms. The presence of an indispensable reading room for one of your greatest pastimes is something that helps transcend above noise and busy lifestyles. This atmosphere definitely helps you achieve that dream-like state that carries you deep within the art of the written word. To help you achieve such serenity, here are some helpful tips that you can use to make your reading room as comfortable as can be.
Build Around Natural Light
As every devoted reader knows, too much light or too little light can be a huge burden on your eyes, especially after long reading sessions. Whether you are more inclined to read during the day, or pick up a book at night, there are options to choose that allow you to control artificial light in the reading room.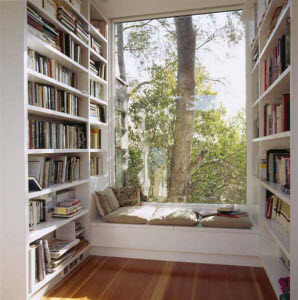 [Image: http://freshome.com/]
Some may think it is very retro to have cushions and pillows directly next to the window sill, but this is a day reader's dream to have an abundance of natural light and get lost in a great book. The deeper the window ledge, the more room you have to sprawl out and relax comfortably.
Comfortable Seating
Couches and comfortable sitting chairs with a big ottoman will help keep you lost in your book for hours. Whether they are nestled in a corner by a lamp, huddled in front of a fireplace or in a den with a cozy blanket and an oversized pillow, you are bound to find the right niche for your love of reading.
Privacy Décor
Of course you want your reading room to look something a bit more inviting than your public library. Some reading rooms are meant to look more private than the rest of the house, that way you can truly escape from the world around you. Thick drapes and curtains come to mind whenever we consider privacy a necessity. Heavy fabrics draped around walls can be made with luminous colors to make your room inviting and to absorb sound from what would be transparent walls that interrupt your peace and quiet.

The perfect lighting, the best seating, and the right decorations all have a say in designing an all around blissful place in your home. Still need more ideas for reading rooms? Consider contacting the interior experts to help you design a budget-friendly concept.