Decorating with the Season's Beloved Winged Creatures
Not only is spring in the air, but so are our flying friends. All around us birds chirp, bees buzz and butterflies flutter. A way to capture the airy element of the season is to incorporate some of these creatures into your home's decor. Here are a few tips to make your decor literally soar:
Bee Bold and Stencil Spring In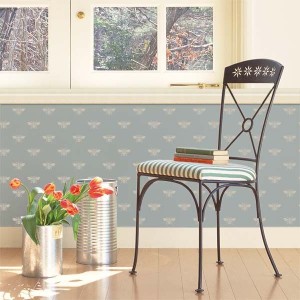 Stenciling is a simple way to liven up a dull room with a crisp, clean design. Select or create the stencil of your favorite springtime critter and the options are endless. A plain white wall can suddenly become a beautiful bee-filled focal point of a room.

If you are leery of stenciling an entire wall, it's perfectly fine to start small. Stenciling borders are subtle ways to bring the element of spring into a home. A string of bumblebees along a wall's edge or even a honeycomb helix border can add just a dash of the aura of the season.
Draped in Butterflies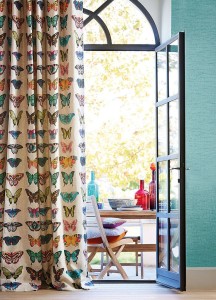 As symbols of transformation and rebirth, butterflies can also transform a living space. One way to include them in your spring decor is through drapery. Hanging butterfly patterned curtains can renew a tired room with a bold, free-spirited look. Drapes are an excellent means of making a design statement while maintaining the ability to easily change it at a later time.


You can also beckon these winged beauties by adding printed accent rugs or by hanging three-dimensional butterflies in front of an open window.
Don't Say Bye-Bye to Birdies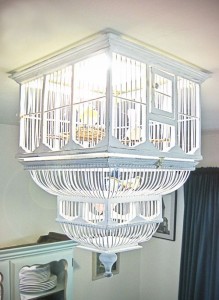 If you haven't noticed already, the bird trend is going strong. Our feathered friends seem to brighten up everything from bedrooms, to bathrooms and even back porches. Fun ways to include them in your spring decor are with birdcages. If you are looking for an eye-catcher, installing a bottomed out birdcage over a ceiling light will do the trick.
Also, you can usher nature in by encasing a houseplant and watching as it romantically grows through the birdcage walls. Whimsical glamor is endless by bringing a birdie's home into yours.


All of these winged creatures allow your decor to soar this season. Do you have a design idea of your own for spring? For more questions and advice on style and design, connect with an expert to create your ideal living space.
[Photo Source: https://www.pinterest.com]